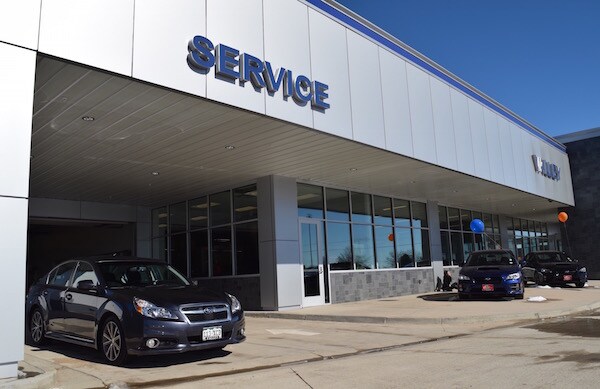 Here at Valley Subaru, we know that finding a great car isn't the only thing drivers in Longmont, Superior, and Boulder need-finding a trusted dealer for automotive repair is important, too. That's why we are home to a state-of-the-art service center. With advanced tools and technologies, high-quality parts, and a team of experienced professionals, we can keep your Subaru running at peak performance.
Read on to get a better look at our service center and the auto repairs we are proud to offer.
Auto Repairs & Service near Longmont CO
Over the next few years, your Subaru will go through a bit of wear and tear as you drive to work, take road trips, and just travel around town. However, routine maintenance can minimize serious issues caused by wear and tear.
Our Subaru service center offers a variety of repairs to preserve the condition and performance of your vehicle. This includes oil changes, tire rotations, brake replacements, engine tune-ups, and powertrain repairs.
We also use and offer Subaru parts and accessories. So, if you need a part replaced or want to customize your vehicle, we can help.
Best of all, you can count on the dependability of our services because our team of professional technicians performs all the maintenance items and repairs. They all have years of automotive repair experience and are thoroughly trained, so they know the ins and outs of your Subaru model. More importantly, they are committed to keeping your vehicle in tip-top shape.
They'll perform an extensive inspection of your car each time you bring it in for an appointment. If it needs routine service or a repair, they'll use specialized tools to ensure reliability. Plus, they'll work quickly and efficiently so they can get you and your car back on the road.
Service Center Experience
At our Subaru service center, we don't just provide you with professional automotive repair and maintenance. We also strive to make your entire experience at our facility fun and comfortable. When you choose to have your Subaru serviced with us, you'll have access to the following benefits:
Rental vehicles and shuttle services
Complimentary car washes
Available refreshments in our lounge
Children's play area
TV and high-speed Wi-Fi
On top of that, we have an array of specials for select maintenance items to help you save during your next service appointment.
Schedule Service for Your Subaru
Your Subaru vehicle is built to last, and the team at Valley Subaru can provide it with the service it needs to help you enjoy its powerful and efficient performance for years to come.
To schedule a service appointment, drivers in Longmont, Superior, and Boulder can contact our dealership today.