The 2021 Subaru Love Promise Community Commitment Award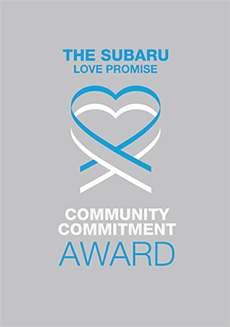 We've been nationally recognized for our dedication to our community and the Subaru Love Promise.
We're honored to receive the 2021 Subaru Love Promise Community Commitment Award. This award nationally recognizes Subaru retailers who are making the world a better place while demonstrating an outstanding commitment to supporting passions and causes in local communities. These efforts are focused in important areas such as the environment, community, health, education, and pets.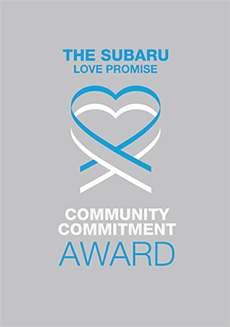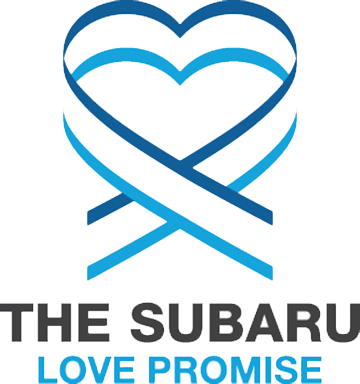 What is the Subaru Love Promise?
Subaru and our retailers believe in making the world a better place and the Subaru Love Promise is our vision of respecting all people. This is our commitment to show love and respect to our customers and to work to make a positive impact in the world.
How is Valley Subaru of Longmont dedicated locally to the Love Promise?
Our Love Promise can be seen in various partnerships with local charities and non-profits. We're grateful for the opportunity, not only to be a part of our community, but to serve it as well.
Rhythm on the River, Lyons Outdoor Games
I have a Dream Foundation, Friend of the Longmont Museum, Trail Ridge Middle School
OUR Center, We Support U!, Veterans Helping Veterans Now, Pinewood Springs Fire Dept., Lyons Community Foundation
Love Promise Stories from Valley Subaru of Longmont
Subaru and Valley Subaru of Longmont believe in making a positive impact on the communities in which we live and work. We uphold that belief through our Love Promise Community Commitment. Every month, we select inspiring stories from customers and partners from around our area who strive to support our collective commitment and feature them here
Subaru Loves Pets at Longmont Humane Society - Kathy G
October was Subaru Loves Pets month, and Subaru donated $100 for every animal adopted during the month - up to $3100 donated directly to Longmont Humane Society! Dogs like Percy and Cassie shown here, found forever homes sponsored by the love and care of Subaru and Valley Subaru of Longmont.
---
Realities For Children Golf Tournament - Chelsea M
Realities for Children Boulder County is an amazing non-profit organization that Valley Subaru loves to support! We had the pleasure of sponsoring their fundraising golf tournament this year were able to present the check from last year's Share the Love Campaign. During our last Share the Love, our customers helped us raise over $32,000 for RFC! That money provides college sponsorships and other support for youth aging out of foster care. These young people have faced many challenges in their lifetimes and remain driven to continue their education and put in the hard work to build the life they want. We can't think of a better place to donate! At the tournament, we were also able to meet our CU Boulder scholarship recipient, Alexis! She is a wonderful young woman pursuing a career in nursing. After everything we've seen in 2020 with the COVID 19 pandemic, we are so honored to help her journey into the medical field. Keep studying, Alexis, the entire Valley Subaru family is behind you!
---
Halloween Spooktacular Adoption - Humane Society - Chelsea M
Due to our ongoing partnership with Longmont Humane Society, Valley Subaru was excited to assist LHS in getting a grant through Subaru and ASPCA this year! The grant money went straight to helping more animals get adopted from the shelter. On October 29 & 30, we were happy to support Longmont Humane in their half off "Halloween Spooktacular" adoption event. All animals over one year of age were adopted out at 50% of their standard adoption fee, making it a little easier for people who were considering adoption to do so! We are so grateful for the hard work put in by every employee and volunteer at Longmont Humane Society and are thrilled every time we get an opportunity to help them in their mission of finding forever homes for these wonderful animals!
---
Make A Dog's Day 2020 - Chelsea M
Valley Subaru was proud to get involved with Subaru's annual Make A Dog's Day event again this year! On October 22, Subaru encourages people to adopt an underdog from their local shelter or do something extra special for their own dog. We're always behind that message! Our Valley Subaru Love Promise Coordinator made 100 dog-friendly homemade cupcakes to share with the shelter dogs waiting for their forever homes at Longmont Humane Society! Want to make these for your own dogs? Check out the recipe here: https://www.youtube.com/watch?v=EXQsXcGxkfc
---
Valley Subaru's LHS Pet of the Month - Kathy G
Valley Subaru of Longmont's Pet of the Month program means everything to some of our longest-term resident dogs looking for a forever home! Every month, we bring a dog looking for just a bit of promotion to Valley Subaru of Longmont (dogs like Butter, shown here on his visit to the dealership). Staff from both organizations let dogs like Butter walk around for a personal doggie-photo shoot. Those photos of pups visiting Valley Subaru then make their way into local Valley Subaru promotions, often landing dogs like Butter a new family. Thank you, Valley Subaru, for going the extra mile for our community. From the animals and the people who love them: Woof!
---
Valley Subaru Changes Lives Through Scholarships - Leanne F
Thank you Valley Subaru for donating $19,634.12 to Realities for Children Boulder County through your Subaru Share the Love event. We appreciate serving as your hometown charity! Your generous donation is being applied to educational scholarships benefiting Boulder County youth who have overcome significant obstacles including abuse and neglect. Most of the students we serve spent time in the foster care system. Research shows that as few as 11 percent of former foster care youth will attend college and from that number, approximately 5 percent will graduate. The students we serve are truly beating the odds – we appreciate Valley Subaru helping us to give hope to these amazing, resilient youth. This year, we awarded scholarships to six youth and a four-year extended scholarship to one student for the University of Colorado.
---
Valley Subaru & The LLS - Beth M
Partnered with The Leukemia & Lymphoma Society, Valley Subaru of Longmont delivered blankets to Longmont United Hospital's Hope Cancer Care Center on July 13, 2018. Although Valley Subaru is heavily involved in their community, this partnership holds a special place in their hearts.Chelsea Mack, a Subaru representative, described a story from a couple of years ago in which a patient reached out to the General Manager of Valley Subaru directly to tell her about how much the blanket meant to her. The blanket supported her while going through treatment, and she was touched that Subaru made this commitment to the cancer community.
---
Everything I want and more. - Bing V
Winters in Colorado can be very unpredictable and I am never afraid in hazardous conditions in my Crosstrek. The ability to turn off AWD is very handy in certain conditions like when you get stuck. I've never had that problem though. Paddle shifters aren't just for fun either. Slowing down by switching to manual, in icy conditions, allows you to lay off the brake. I love my Subaru and purchasing it and maintaining it has been a breeze because of Valley Subaru. I named mine Clyde. Maybe you can guess why from the picture.
---
Subaru and NWF Love the Earth! - Kia M
Had a great time with Valley Subaru of Longmont! We partnered with them for the #SubaruLovesTheEarth campaign, for donated gardening equipment and food, shelter and water sources for various small species. This new setup will make the school a certified wildlife habitat through the National Wildlife Federation and give us a great tool to teach the kids about the importance wildlife preservation and gardening!
---
Be a Butterfly Hero with Valley Subaru of Longmont - Chelsea M
Valley Subaru of Longmont is bringing our commitment to the environment to life, by supporting the National Wildlife Federation (NWF). We know that loving the environment means more than loving the great outdoors, it means working to preserve it. Through our Subaru Loves the Earth initiative, we are supporting the Butterfly Heroes program and building habitats across the country. Did you know that 90% of Monarch butterflies have disappeared because their habitat is disappearing? We're working to fix that by providing a NWF certified wildlife habitat that supplies food, water, cover and places for butterflies to raise their young! This habitat will be on display at Valley Subaru of Longmont through the months of April and May and will then be donated to a local school. Why are the butterflies so important? Yes, they are beautiful to look at, but we need them to help pollenate our food. 1 of 3 bites on our dinner plate is made possible by pollinators. They're an important part of our ecosystem, and introducing habitats like the one we have at Valley Subaru plays an vital role in increasing butterfly populations.Come by Valley Subaru this month to see the NWF certified habitat and get your free packet of milkweed seeds! By planting these seeds, you'll be providing the food and cover the Monarch butterflies need to thrive. Join us in creating a community of Butterfly Heroes!
---