The 2021 Subaru Love Promise Community Commitment Award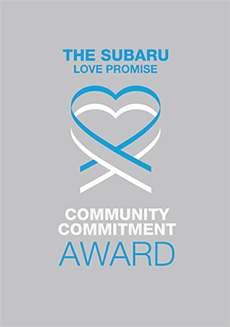 We've been nationally recognized for our dedication to our community and the Subaru Love Promise.
We're honored to receive the 2021 Subaru Love Promise Community Commitment Award. This award nationally recognizes Subaru retailers who are making the world a better place while demonstrating an outstanding commitment to supporting passions and causes in local communities. These efforts are focused in important areas such as the environment, community, health, education, and pets.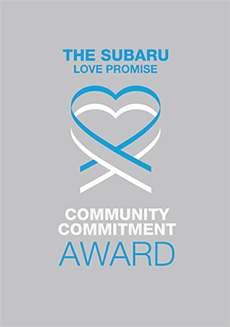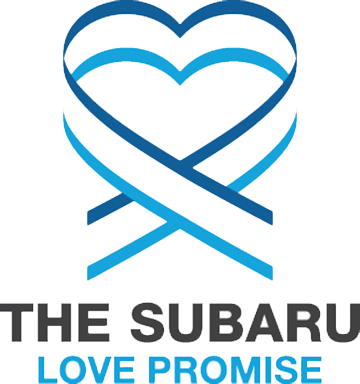 What is the Subaru Love Promise?
Subaru and our retailers believe in making the world a better place and the Subaru Love Promise is our vision of respecting all people. This is our commitment to show love and respect to our customers and to work to make a positive impact in the world.
How is Valley Subaru of Longmont dedicated locally to the Love Promise?
Our Love Promise can be seen in various partnerships with local charities and non-profits. We're grateful for the opportunity, not only to be a part of our community, but to serve it as well.
Rhythm on the River, Lyons Outdoor Games
I have a Dream Foundation, Friend of the Longmont Museum, Trail Ridge Middle School
OUR Center, We Support U!, Veterans Helping Veterans Now, Pinewood Springs Fire Dept., Lyons Community Foundation
Love Promise Stories from Valley Subaru of Longmont
Subaru and Valley Subaru of Longmont believe in making a positive impact on the communities in which we live and work. We uphold that belief through our Love Promise Community Commitment. Every month, we select inspiring stories from customers and partners from around our area who strive to support our collective commitment and feature them here
A Second Chance for Lucious - Carrie B
Longmont Humane Society is grateful for our ongoing partnership with Valley Subaru of Longmont. Their generous support continues to help our organization make a difference in the lives of thousands of animals in need each year – animals like Lucious. After spending an unknown amount of time living on his own, likely without consistent access to food, shelter or veterinary care, nine-year-old Lucious arrived at one of our partner shelters in New Mexico. Lucious was transferred from our partner shelter to Longmont Humane Society in February of 2021 with the hope of finding a second chance at a loving, forever home for this sweet, senior dog. After his arrival at LHS, our Health Care Team discovered that Lucious had elbow arthritis in his front legs and an old rear leg injury which was making walking even short distances painful and difficult. After receiving a veterinary assessment at Longmont Humane Society, our Health Care Team was able to design a pain management support regimen for Lucious so that he would have the chance of experiencing a happy life with a new, loving family of his own. Happily, Lucious was adopted in June of 2021 to a wonderful forever family that was very experienced at caring for senior dogs with special medical needs. It was evident that Lucious had found the perfect retirement home when LHS learned that his new family had purchased him his very own wagon, which they loaded with pillows and blankets, enabling him to enjoy walks and adventures with his new family, including his new senior dog siblings, even on days where he was feeling especially slow. Thanks to the support of generous partners like Valley Subaru of Longmont, Longmont Humane Society is proud to be able to offer second chances to animals in need, regardless of their age, background or unique needs.
---
Outback Sweepstakes for Longmont Humane Society! - Daniela M
Valley Subaru and Longmont Humane Society have been long time partners! From our adoptable pet of the month, Subaru "Make a Dog's Day," event sponsorships, to our newest fundraiser, the Subaru Outback Wilderness Sweepstakes! Individuals nationwide can buy tickets for a chance to win a 2022 Outback Wilderness and an offroad Aliner camper! This is our first time working together on this type of fundraiser and look forward to seeing how much money we can raise to save even more lives at Longmont Humane Society! Visit https://longmonthumane.tapkat.org/winsubaruplusalinercamper/ to get all the details, learn more, or buy your tickets!
---
Meals on Wheels Essentials Drive - Katie W
Longmont Meals on Wheels and Valley Subaru of Longmont are so happy to partner to help support older adults and those with disabilities! During the holiday season, Valley hosted an essentials drive for our clients, gathering food, personal care items, and other essentials for those in need in our community. Stay tuned for our next essentials drive!
---
Subaru Loves Pets at Longmont Humane Society - Kathy G
October was Subaru Loves Pets month, and Subaru donated $100 for every animal adopted during the month - up to $3100 donated directly to Longmont Humane Society! Dogs like Percy and Cassie shown here, found forever homes sponsored by the love and care of Subaru and Valley Subaru of Longmont.
---
Realities For Children Golf Tournament - Chelsea M
Realities for Children Boulder County is an amazing non-profit organization that Valley Subaru loves to support! We had the pleasure of sponsoring their fundraising golf tournament this year were able to present the check from last year's Share the Love Campaign. During our last Share the Love, our customers helped us raise over $32,000 for RFC! That money provides college sponsorships and other support for youth aging out of foster care. These young people have faced many challenges in their lifetimes and remain driven to continue their education and put in the hard work to build the life they want. We can't think of a better place to donate! At the tournament, we were also able to meet our CU Boulder scholarship recipient, Alexis! She is a wonderful young woman pursuing a career in nursing. After everything we've seen in 2020 with the COVID 19 pandemic, we are so honored to help her journey into the medical field. Keep studying, Alexis, the entire Valley Subaru family is behind you!
---
Halloween Spooktacular Adoption - Humane Society - Chelsea M
Due to our ongoing partnership with Longmont Humane Society, Valley Subaru was excited to assist LHS in getting a grant through Subaru and ASPCA this year! The grant money went straight to helping more animals get adopted from the shelter. On October 29 & 30, we were happy to support Longmont Humane in their half off "Halloween Spooktacular" adoption event. All animals over one year of age were adopted out at 50% of their standard adoption fee, making it a little easier for people who were considering adoption to do so! We are so grateful for the hard work put in by every employee and volunteer at Longmont Humane Society and are thrilled every time we get an opportunity to help them in their mission of finding forever homes for these wonderful animals!
---
Make A Dog's Day 2020 - Chelsea M
Valley Subaru was proud to get involved with Subaru's annual Make A Dog's Day event again this year! On October 22, Subaru encourages people to adopt an underdog from their local shelter or do something extra special for their own dog. We're always behind that message! Our Valley Subaru Love Promise Coordinator made 100 dog-friendly homemade cupcakes to share with the shelter dogs waiting for their forever homes at Longmont Humane Society! Want to make these for your own dogs? Check out the recipe here: https://www.youtube.com/watch?v=EXQsXcGxkfc
---
Valley Subaru's LHS Pet of the Month - Kathy G
Valley Subaru of Longmont's Pet of the Month program means everything to some of our longest-term resident dogs looking for a forever home! Every month, we bring a dog looking for just a bit of promotion to Valley Subaru of Longmont (dogs like Butter, shown here on his visit to the dealership). Staff from both organizations let dogs like Butter walk around for a personal doggie-photo shoot. Those photos of pups visiting Valley Subaru then make their way into local Valley Subaru promotions, often landing dogs like Butter a new family. Thank you, Valley Subaru, for going the extra mile for our community. From the animals and the people who love them: Woof!
---
Valley Subaru Changes Lives Through Scholarships - Leanne F
Thank you Valley Subaru for donating $19,634.12 to Realities for Children Boulder County through your Subaru Share the Love event. We appreciate serving as your hometown charity! Your generous donation is being applied to educational scholarships benefiting Boulder County youth who have overcome significant obstacles including abuse and neglect. Most of the students we serve spent time in the foster care system. Research shows that as few as 11 percent of former foster care youth will attend college and from that number, approximately 5 percent will graduate. The students we serve are truly beating the odds – we appreciate Valley Subaru helping us to give hope to these amazing, resilient youth. This year, we awarded scholarships to six youth and a four-year extended scholarship to one student for the University of Colorado.
---
Valley Subaru & The LLS - Beth M
Partnered with The Leukemia & Lymphoma Society, Valley Subaru of Longmont delivered blankets to Longmont United Hospital's Hope Cancer Care Center on July 13, 2018. Although Valley Subaru is heavily involved in their community, this partnership holds a special place in their hearts.Chelsea Mack, a Subaru representative, described a story from a couple of years ago in which a patient reached out to the General Manager of Valley Subaru directly to tell her about how much the blanket meant to her. The blanket supported her while going through treatment, and she was touched that Subaru made this commitment to the cancer community.
---